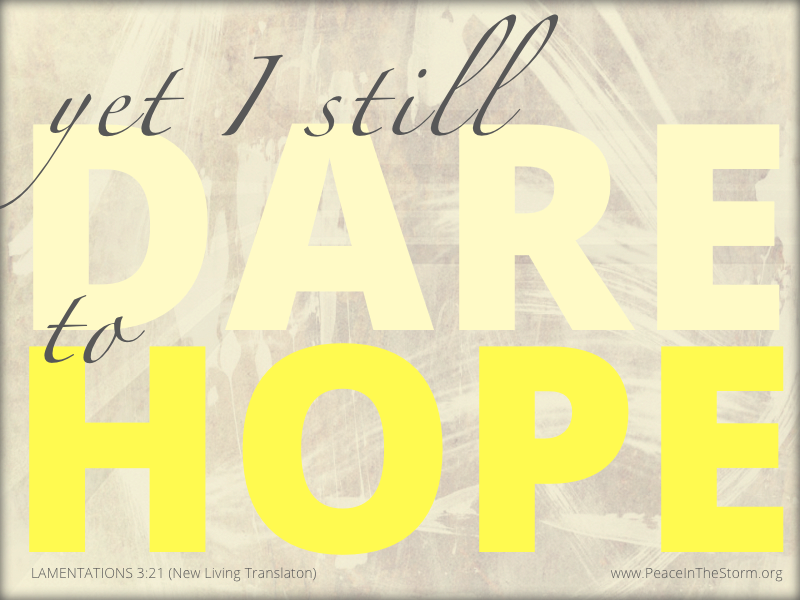 I don't write here frequently anymore, but I found six POWERFUL words in the Bible this morning that I had to share.
But first, this:
He has made me grind my teeth on gravel. He has rolled me in the dust. Peace has been stripped away, and I have forgotten what prosperity is. I cry out, "My splendor is gone! Everything I had hoped for from the LORD is lost!" The thought of my suffering and homelessness is bitter beyond words. I will never forget this awful time, as I grieve over my loss.
(Lamentations 3:16-20, New Living Translation)
Can you feel the anguish in those words? I can.
Have you ever been there? I have.
Those words are so real to me that as I read them, I could actually feel the sand between my teeth and taste the dust.
No peace.
No prosperity.
All hope is lost.
Bitter beyond words.
Grieving.
But then I came upon those six words that grabbed me:
Yet I still dare to hope…
(Lamentations 3:21, New Living Translation)
Yet… after all that has happened, after all that I've seen.
Still… nevertheless, even now.
Dare… boldly, courageously.
Hope… expecting good.
Here's the rest of the passage:
Yet I still dare to hope when I remember this: The unfailing love of the LORD never ends! By his mercies we have been kept from complete destruction. Great is his faithfulness; his mercies begin afresh each day. I say to myself, "The LORD is my inheritance; therefore, I will hope in him!" The LORD is wonderfully good to those who wait for him and seek him. So it is good to wait quietly for salvation from the LORD.
(Lamentations 3:21-26, New Living Translation)
Yet I still dare to hope.
I dare you to, too.
Want more on hope? Check out Pastor Pete Wilson's brand new book: Let Hope In.